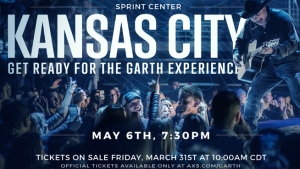 Hey, Friends. I can't tell you how excited I am that Garth Brooks is coming to Kansas City on May 6th. He's an absolute ICON in the music world. You don't have to be a country music fan to know Garth Brooks. After all, he's pop star, Chris Gaines. (Ok. Maybe 'star' is a stretch.) Need a refresher? See if this Chris Gaines video helps jog your memory.
Growing up in Southeast Kansas, I listened to a lot of country music. I mean a LOT. I dressed the part, too. I had a pretty good collection of western shirts in the 90's. I had about half a dozen different colors of those high waisted Rocky Mountain jeans. And boots! I had your standard black ropers. I also had a pair of turquoise boots and a pair of fire engine red boots like these. At the bottom of this article is a pic of me sporting both colored jeans and an epic western shirt. (And, can we agree to not comment on that perm? That would be great!)
As a radio personality, I've seen more concerts than I can remember. Nothing stacks up to the energy I saw displayed on-stage when I saw Garth and wife, Trisha Yearwood, in Tulsa in 2015. This is a MUST SEE CONCERT! Getting tickets to see him will not be an easy task. They sell out faster than The Road Runner escapes Wile E. Coyote.
Here are a few tips to getting tickets before they sell out:
Create an account now! This will make your purchasing experience much quicker.
Log in early! Tickets go on-sale March 31st at 10am. The only way to buy tickets is through axs.com/garth or 844-63GARTH. Call early or log onto that site early and hold your place in line.
Log in on a couple computers! I was able to get tickets when logged into the website on my laptop, but not my desktop. Seriously! There will be a lot of people fighting to get these tickets.
Be patient when waiting online! This is going to take some time. I've purchased Garth tickets twice in my life and both times, I was sitting in the online waiting room watching one, two, even three concerts sell out before I was able to purchase tickets for one of the events.
You can release tickets! If purchasing online, axs may offer you seats to one of the shows. You can roll the dice and release the tickets (hoping for a better seat on another night). It worked for me the second time I saw Garth. But, it didn't work for me the first time.
Garth does multiple shows! The concert date is May 6th at 7:30pm at Sprint Center in Kansas City. The odds are really high that he'll add multiple concert dates in the days prior to the 6th or even on the 7th. I've seen him also do two shows in one night. I've seen him do a 7pm Saturday concert and then another one later that night at around 10.
One price. Any seat! The ticket prices are $74.98… no matter where you sit. You could be in the rafters at the Sprint Center, or in the 10th row. No matter where you sit, the ticket price is set at $74.89 and that includes taxes and fess.
Ticket limit. We're seeing more and more artists limit the number of tickets that can be purchased by one person. This is done to help curb the number of scalpers out there. (They are PIGS, imo!) There is an 8 ticket limit for this Garth concert.
Good luck! May the odds be forever in your favor.