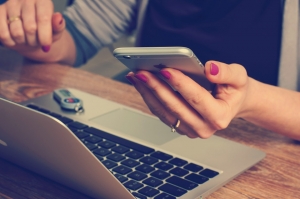 A new Google Chrome browser extension called "Nope" aims to help users escape from a common workplace annoyance — conversations with co-workers.
The Nope extension features a button at the top of the user's browser that they can click when approached by a co-worker serving up some annoying conversation.
"Press this button to send a call to your phone. Apologize sincerely as you pick it up. Then watch them walk away," the extension's description reads.
The phone call features a recorded voice on the other end giving instructions to the user.
"On the count of 3, put your hand to your mouth as if you are hearing bad news. Wave and point at the phone so you look away," the recorded voice suggests. "Repeat these words after me in a serious and concerned tone: 'Yes, of course I can talk now, what's the matter?'"
The app was developed by Breather, a company specializing in short-term office space rentals — a sort of Airbnb for office workers who need some space.